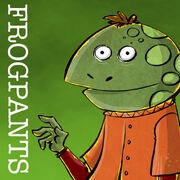 FrogPants Studios was founded in 2008[1] by artist and digital media creator Scott Johnson. It is located in Eagle Mountain, Utah[2].
At Nerdtacular 2012, Scott explained the origin of the name FrogPants. Years earlier, he and Kim Johnson had envisioned creating a bookstore for children. The store would be called FrogPants Books, and its mascot would be a magic frog with a funny hat. Scott registered the domain name in case the idea ever came to life.
When he was later trying to decide on a name for the studio, he looked at the list of domains he owned, and saw that frogpants.com was the "most normal" of the options. Thus, FrogPants Studios was born.
February: FrogPants studios launches
December: New website launches
References
Edit
Ad blocker interference detected!
Wikia is a free-to-use site that makes money from advertising. We have a modified experience for viewers using ad blockers

Wikia is not accessible if you've made further modifications. Remove the custom ad blocker rule(s) and the page will load as expected.