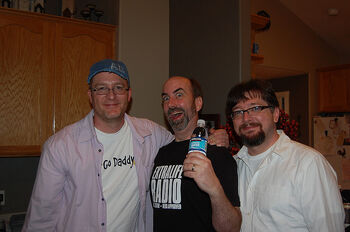 Darrell Skeels is the TrekNerd, The Hobo of the Northwest and a regular contributor to Frogpants studios. Formerly Darrell the Tipgiver of The Instance fame, he is now the TrekNerd on The Morning Stream, where he answers a question presented to him by Scott Johnson about Star Trek. Currently all questions only refer to Star Trek: The Original Series, or Star Trek: The Next Generation.
Currently Darrell is the host of the podcast "This Week in Trek" in which he discusses many things Star Trek with his co-host, such as growing up a Trek fan and what their thoughts are on certain episodes.
Darrell is also the the father of children. It is presumed they are human.
Ad blocker interference detected!
Wikia is a free-to-use site that makes money from advertising. We have a modified experience for viewers using ad blockers

Wikia is not accessible if you've made further modifications. Remove the custom ad blocker rule(s) and the page will load as expected.