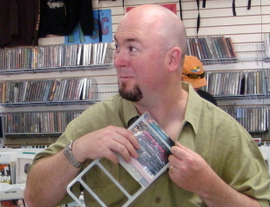 Brian Ibbott is a podcaster who lives in Arvada, Colorado. He is best known for his podcast Coverville, which began in September 2004. Coverville is one of the longest running podcasts in the iTunes store and also is in the top rankings for overall episode numbers. Ibbott co-hosts "The Morning Stream" with Scott Johnson Mondays through Thursdays, where he is known as "the Man in the Booth."
He also podcasts for the Denver Post as well as co-hosting the casual gaming podcast "Tired Thumbs" with Charlie George and Sara Phillips. He also co-hosts a movie discussion podcast, "Film Sack", with Scott Johnson, Randy Jordan, and Brian Dunaway.
Ibbott is the Denver Podcasters Meetup coordinator.
Ad blocker interference detected!
Wikia is a free-to-use site that makes money from advertising. We have a modified experience for viewers using ad blockers

Wikia is not accessible if you've made further modifications. Remove the custom ad blocker rule(s) and the page will load as expected.