mp3 download link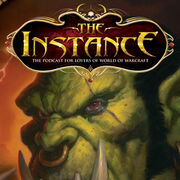 Big News Of The Week
Edit
Darkmoon Faire Comes to Orlando
Edit
If you're in the Orlando area, it is not too late to go see the first real-life Darkmoon Faire event of 2008. As before, there will be a local realm set up where players can participate in arena competition, leveling competition, and in-game treasure hunts. The Orlando event is already underway this weekend, and for the TCG players who are probably already competing in Orlando, UpperDeck claims to be offering some killer prizes. The next Upper Deck – Blizzard real-life Darkmoon Faire weekend will be April 11-13 in Columbus, OH.
Rumors and Scuttlebutt
Edit
Blizzard Has The Red Swingline Staplers
Edit
Game Developer magazine published their study naming the top 50 videogame developers in the world, based on "sales and reputation data," and Blizzard came in at number three on the list, behind Nintendo Kyoto and Infinity Ward, and above of EA, Valve, Harmonix, and Square Enix.
Thirsty? In-Game Coca-Cola May Be On The Way
Edit
Next Generation recently posted an interview with Activision CEO Bobby Kotick, and raised many possibilities for generating revenue in their ever growing pack of games. Specificallly, he talks about how Activision-Blizzard must figure out StarCraft's business model for the future, "with in-game advertising and sponsorship" which he says "presents a tremendous opportunity for the future."
Second Skin Is Now Showing Somewhere
Edit
The documentary film that many WoW players have been looking for saw its' world premier last night in Austin at the South By Southwest festival. If you're in Central Texas, there are still two more showings of the film that you could attend, and since it doesn't yet have a distributor, this may be your only chance until the film goes to DVD or cable.
Town Cryer
Edit
John F. writes: How can I get a tiger mount? I'm not a Night Elf.
(http://www.warcraftmounts.com/)
Ren, a 70 Paladin on Vek'nilash writes
I need to ask this: why is it that there seems to be so much hate (or at least absolutely no love) for Retribution spec Paladins? It seems like you can't get groups with that spec, guilds don't want them, and there's something that makes people absolutely irrational about them.
Drop Of The Week
Edit
The Worldwide Arena Battle Is Coming!
Edit
Are you ready to take on the world in the arenas? The World of Warcraft team will be testing the WoW Arena Tournament on the Tournament Test Realm, and you are invited to be a part of the action.
And We Give Away A Prize, And Start A New Contest!
Ad blocker interference detected!
Wikia is a free-to-use site that makes money from advertising. We have a modified experience for viewers using ad blockers

Wikia is not accessible if you've made further modifications. Remove the custom ad blocker rule(s) and the page will load as expected.