mp3 download link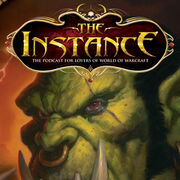 Big News Of The Week
Edit
Brewfest!
Edit
The long anticipated holiday went live on Tuesday, and there were issues, and there were complaints, and there is a lot of beer!
Rumors and Scuttlebutt
Edit
Is Big Brother Listening?
Edit
One of the facts of artifical life in WoW is that big brother knows what you're doing. Players are routinely banned from the game based solely on what they type into the chat window. Blizzard can go back and confirm what was said. This raises the question, "Is Blizzard now recording what you say over the in-game voice chat feature?"
Blizzard's Having a Pumpkin Carving Contest
Edit
Time to murder a gourd. And a few details:
-Ten talented winners will receive a G51 Surround Sound Speaker System from Logitech.
-This competition is fierce. Have a look at the pages for last year's winners.
-Your pumpkin must be lit, and it wouldn't hurt to explain exactly what the image is.
Town Cryer
Edit
R.C. writes:
Regarding gold farming, I disagree with you guys for the most part. I have played WOW for about 2 years and yes, I have regularly bought gold. Until about 1 year ago, when I ordered gold, I had it either in person or in mail to me almost immediately. No issues at all.
Althalas from the WoW: From 1 To 70 podcast writes:
Please remind everyone that gold farmers are responsible for the Trojans and Keyloggers that plague our game. These programs steal peoples accounts and steal off all their hard earned items and sell them off. Then they send you the gold from someone elses account. Bottom line if you buy gold you are buying STOLEN gold and contributing to people ruining other people experiences.
Drop Of The Week
Edit
Interview With The Death-Knight
Edit
Blizzard this week produced a two-part exposé on the first hero-class to be introduced to World Of Warcraft. First, on the Death Knight Lore page, we learn how Orgrim Doomhammer's mercy allowed Gul'dan to sew together the very first Death Knight – Teron Gorefiend – and all of the events that followed. Then, on the Interview page, the World Of Warcraft design team answers four complicated questions about how the Death Knight as a playable class is expected to fit into the game.
Ad blocker interference detected!
Wikia is a free-to-use site that makes money from advertising. We have a modified experience for viewers using ad blockers

Wikia is not accessible if you've made further modifications. Remove the custom ad blocker rule(s) and the page will load as expected.