mp3 download link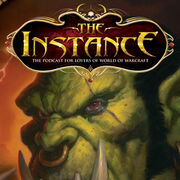 Big News Of The Week
Edit
Blizzard Is Austin-tacious
Edit
On Wednesday, Blizzard co-founder and President Mike Morhaime delivered the opening keynote address at the Austin Game Developers Conference. Called "How to Rule the World (of Warcraft): Ten Lessons", it was an opportunity for everyone interested in WoW and MMO Gaming, from casual players to developers, to get inside the head of the most succesful gaming executive on the planet.
Rumors and Scuttlebutt
Edit
The Incredible Changing Gear Size
Edit
Most every day the last couple of weeks, players have been taking screen shots of their characters on and off the Public Test Realms, and posting pictures on various websites that show their armor (mostly shoulders on Night Elves) or weapons stretched to different size in the fortchcoming patch.
So, This WoW Thing Is Popular?
Edit
ActionTrip put together a rundown of the five most popular online game communities this week, and as you can imagine, since we're talking about it, WoW was in their top five. The other four: Counter-Strike, RuneScape, The Sims, and Halo.
The WoW "Under Development" Page Is Back
Edit
It's broken down into sections called "Almost Ready", "Coming Soon", and "On The Horizon".
Town Cryer

Edit
Kyri writes:
With the filter system on Wowhead, you could easily find every listed/linked rare elite mob in the game so far. Sortable by level, zone, etc.
Dylan B. writes:
Can I join your guild?
Yes! Just go here, and you're on your way!
Drop Of The Week
Edit
Make Your Own Epics
Edit
WoW Item Creator is back. We started getting e-mails this week with links to funny fictional game items, like we used to when the original WoW Item Creator was online. It's back, and the layout of the website is very nice.
Ad blocker interference detected!
Wikia is a free-to-use site that makes money from advertising. We have a modified experience for viewers using ad blockers

Wikia is not accessible if you've made further modifications. Remove the custom ad blocker rule(s) and the page will load as expected.