mp3 download link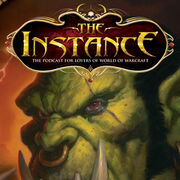 Big News Of The Week
Edit
WoW Comic On The Way!
Edit
The San Diego Comic Con is next week, and well-known comic artist Jim Lee will be appearing with Blizzard's lore expert Chris Metzen. Just days later, Jim Lee is scheduled to appear at BlizzCon. Something's certainly going on here to have Jim Lee making two Blizzard-related appearences in a week. If you follow this link to the BlizzPlanet blog, you'll see scans of a possible comic sampler, along with the news that World of Warcraft# 1 will be released on November 2007. We'll see you at the comic shop!
Rumors and Scuttlebutt
Edit
Southpark Gets Emmy Nomination For WoW
Edit
The World of Warcraft South Park episode "Make Love, not Warcraft" has been nominated for the Emmy Outstanding Animated Program. South Park has been nominated six times before, they've only won the category once, and that was for the episode "Best Friends Forever", which was based on a PSP game.
Play A Fantastic Character On The PTR, Please Wait!
Edit
Premade level 70 characters with "high level raid dungeon equipment" are available for you to copy to a PTR and play! BUT:
-You have to have the expansion
-You have to download the test patch
-There is a 4 to 5 day wait before you can use them.
Drop Of The Week
Edit
Thottbot 3.1: Scoring System
Edit
For those of us who stopped using Thottbot months/years ago, it's a surprise. Randydeluxe still uses Thottbot every day, and just five days ago, noticed Thottbot 3.10, including a new "scoring system," which is allows you to gear up – on paper, errr, screen – and compare an arbitrary 'score' for the set.
Basically, every item now has a score associated with it, and that score is based on a number of different qualities, including base stats, armor, gem slots, resistances, spells, combat ratings. But you don't have to trust Thott. You can change the scores yourself. And custom score settings can be turned into a permalink, which means players can easily trade their own custom scoring sets with each other.
Ad blocker interference detected!
Wikia is a free-to-use site that makes money from advertising. We have a modified experience for viewers using ad blockers

Wikia is not accessible if you've made further modifications. Remove the custom ad blocker rule(s) and the page will load as expected.