mp3 download link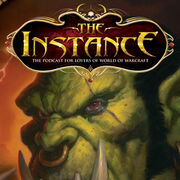 Big News Of The Week
Edit
Tigole Speaks, And Speculates, And Beckons
Edit
Warcry.com published an interview with Tigole, Blizzard Lead Dev Jeff Kaplan this week, in which the beans were spilt on a number of topics. We've got a breakdown.
Rumors and Scuttlebutt
Edit
They're Really Making A Movie. No, Really.
Edit
Blizzard's Rob Pardo was one of the panelists at the Hollywood and Games Summit. There's a lot of discussion of intellectual property and development, of course, but one tidbit was abundantly clear – Blizzard is working continuously with Legendary Pictures.
Your Virtual Identity May Be Worth More Than Your Real One
Edit
According to Craig Schmugar, a researcher with the McAfee research labs, McAfee now sees more password-stealing malware designed to nab accounts of games like Lineage and World of Warcraft than Trojans that go after financial accounts.
Kelevor writes:
I heard in your episode 69 podcast that you mentioned how much you and the other listeners liked the mod Necrosis and were bummed when you found out it was no longer being updated. About a year ago or so I came upon a mod called "LYLOCK". This mod works very well and will do everything Necrosis did and I think a bit more.
Drop Of The Week
Edit
Really Good Music Videos
Edit
Blizzard announced the winners of their Music Video Contest on Monday. For those who missed it, Machinima.com teamed up with the group The Ataris to give WoW filmmakers a chance to use songs from The Ataris' new album in fresh music videos. The winners are *really* good: And there are still three pre-Blizzcon contests coming from Blizzard:
Fan Art Contest: The top five entries will each receive two tickets to BlizzCon 2007 and an Nvidia graphics card.
Original Song Contest: The grant prize winner will receive a Dell XPS laptop and two tickets to BlizzCon 2007, while two runner-ups will each receive a Creative Labs sound card and two tickets to BlizzCon 2007.
Movie Contest: As-of-yet-unnannounced prizes will be going to first, second, and third place movies in the categories of action-adventure, drama, and comedy, with a grand prize winner chosen from the first place winners.
Entries to all contests end on July 19th at 11:59 PM PDT
Ad blocker interference detected!
Wikia is a free-to-use site that makes money from advertising. We have a modified experience for viewers using ad blockers

Wikia is not accessible if you've made further modifications. Remove the custom ad blocker rule(s) and the page will load as expected.