mp3 download link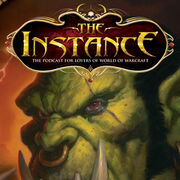 Big News Of The Week
Edit
The Instance Dings 70!
Edit
In a very special episode, we've got special guests: Shawn Basic and Patrick From France!
Wowhead Goes To The Dark Side
Edit
We don't have official confirmation on this, but the news everywhere this morning is that Wowhead, many players'WoW database, was just sold to Affinity Media for around $1 million.
Affinity Media also owns Thottbot and Allakhazam, so unless something else has changed dramatically, all three of the databases that 95% of WoW players utilize are one and the same. Afiinity Media is the company that has denied owning IGE, the notorious gold selling advertiser, for years. What was so meaningful about WoWhead to many players was the notion that there was one online database site that was free of gold-sellers, their ads, their influence. That may be over.
The Midsummer Fire Festival Is Here
Edit
The festival of flame in game started Thursday, and runs through July 5th. There are bonfires in the cities, new quests to be run, and new rewards to be had. And of course, coming next week around July 4th, the fireworks will fly over Azeroth's cities yet again.
Rumors and Scuttlebutt
Edit
Three Quick Follow-ups To Our News About The Patch On Tuesday
Edit
1. For a short time, the changed PvP trinkets were able to dispel the Warlock DoT Unstable Affliction. According to a Blizzard CM, this was quickly hotfixed
2. Shamans are miffed to discover that their focused mind talent isn't stacking with other effects that provide the same bonus, such as the changed Paladin Improved Concentration Aura (30%) or the Pendant of the Lost Ages from Serpentshrine Cavern (20%). A Blizzard CM said " confirm you that Focus Mind is being reviewed."
3. And the Mage Arena Season 2 armor, which strangly has a smaller Intellect bonus on it than their Season 1 armor, is also getting investigated. Blizzard said "We've been able to identify what went wrong and the stats for the Mage Season 2 items are being corrected in a future patch."
Drop Of The Week
Edit
====Blizzard and Upper Deck Are Holding An Art Sale We just took a peek into our local Gamestop, and it's true. You can now own pieces of your favorite art from the WoW TCG. It's a set that is also available at EBGames, and it includes:
-35 different 8″x10″ art cards displaying art from the WoW TCG.
-Horde Images by Dan Scott, Justin Sweet, Todd Lockwood, Jonboy Meyers, Samwise and others.
-Alliance Images by Kev Walker, James Zhang, Todd McFarlane, Michael Komarck, Greg Staples and other and os.
-An exclusive game-playable TCG foil card.
-A high-point-value UDE Rewards Card.==== So that's two different art sets, they're available at EBGames, also, and when I was at Gamestop earlier, the asking price was $49.99.
Ad blocker interference detected!
Wikia is a free-to-use site that makes money from advertising. We have a modified experience for viewers using ad blockers

Wikia is not accessible if you've made further modifications. Remove the custom ad blocker rule(s) and the page will load as expected.