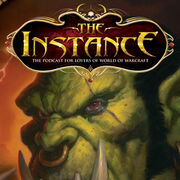 Brian Ibbott of Coverville and TMS fame joins us today! We talk a bunch about Race to World First, and the Podcast Awards.
Big News of the Week
Edit
Blizzcon Next Week! What are we planning, what can you expect, what matters most?
- New expansion news.
- Other weird announcements?
- We will have full coverage with a show Saturday night, posted that evening or next day.
Big Cauldron of Battle and Cauldron of Battle…were recently changed on the PTR to Bind to Battle.net Account from Bind on Pickup. No more hassle with using your Alchemist alts! Also, how awesome are the new Hurricane and Wrath Animations?
Rumors & Scuttlebut
Edit
Sneak Peek: Guardian Cub Tradable Pet! "A new pet is coming to a Blizzard Store near you and … you can trade it and sell it at the auction house! Coming soon to a Pet Store near you: the new and titanically cute Guardian Cub companion. You've soared across Azeroth on the majestic Winged Guardian. Soon, you'll be able to purchase a pint-sized Guardian of the Titans sidekick to accompany you on your adventures."
Suspending LFG Queues?! An interesting client string that hints at a feature to "suspend" your LFG queue.
IN_LFG_QUEUE_BUT_SUSPENDED = "Your queue has been temporarily suspended. You will retain your position in the queue."
A note about firelands progression. Blizzard says these are wrong.
Drop of the Week
Edit
Blizzard Charity Auction Benefitting St. Jude Children's Research Hospital® Coming Soon! Want to own a piece of Blizzard Entertainment history? After a series of World of Warcraft infrastructure upgrades, we've preserved the retired HP server blades that once hosted many realms in our archives. In the near future a selection of these blades will be made available for auction, and the net proceeds will be donated to St. Jude Children's Research Hospital. Also, Turpster did some videos for Doghouse Systems!
Ad blocker interference detected!
Wikia is a free-to-use site that makes money from advertising. We have a modified experience for viewers using ad blockers

Wikia is not accessible if you've made further modifications. Remove the custom ad blocker rule(s) and the page will load as expected.