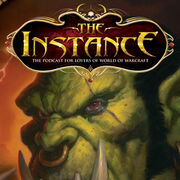 We talk on top about the movie we are all in, and a bit about what it means to be the first in world to hit some of these lofty WoW team goals.
Big News of the Week
Edit
Foo Fighters to Rock the House at BlizzCon 2011! We're happy to announce that Foo Fighters will headline the closing concert of this year's sold-out BlizzCon®, taking place October 21-22 at the Anaheim Convention Center. While tickets to the convention are currently sold out, viewers can watch at home by ordering a BlizzCon Virtual Ticket, offering comprehensive live coverage of the event (including Foo Fighters' performance) globally over the Internet and also on DIRECTV® in the United States.
Nope, No Titan Reveal This Year. Sad, but hey…I am sure we will hear in 2012, right?
Rumors & Scuttlebut
Edit
Raid Finder Coming in Patch 4.3! We break all the good stuff down and talk about it.
Drop of the Week
Edit
Patch 4.3: New color-blind accessibility mode! Forum poster Ardhavara has posted an excellent guide to the color-blind accessibility mode for World of Warcraft, complete with images of the various ways it helps different kinds of color blindness. The console settings for each type are listed, and there's a good explanation in the thread by poster Kaels explaining each type and how these options help to make the game more distinct for each. (thx to WoWInsider for the headsup!)
Ad blocker interference detected!
Wikia is a free-to-use site that makes money from advertising. We have a modified experience for viewers using ad blockers

Wikia is not accessible if you've made further modifications. Remove the custom ad blocker rule(s) and the page will load as expected.