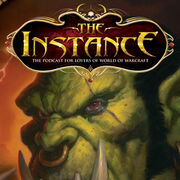 Big show today! Let's jump right in!
Big News of the Week
Edit
The All New Darkmoon Faire…we break it down.
Edit
We know what the blizzcon pet is Murkablo! An ill omen streaks across the sky over Azeroth's Great Sea, heralding the arrival of this year's BlizzCon-exclusive World of Warcraft in-game companion: the fearsome-ish Murkablo, aquatic protégé of Diablo III's eponymous Lord of Terror! Anyone who attends BlizzCon 2011 or purchases this year's BlizzCon Virtual Ticket will receive a Murkablo to call their own, along with a yet-to-be-revealed StarCraft II in-game gift.
World of Warcraft Mobile Armory updated to version 3.1.0. The World of Warcraft Mobile Armory for iPhone was updated earlier today to version 3.1.0. The update adds improved mobile auction house functionality, visual tooltips in chat, additional guild features, and other general quality-of-life improvements to bring the mobile app up to par with Battle.net's latest web interface and expected on-the-go functionality.
Rumors & Scuttlebut
Edit
Can I transmogrify my legendaries? You will not be able to transmogrify using a legendary item as either the source or the recipient of a change. This system is going to launch with fairly conservative rules, so that we can get it up and running as soon as possible and make fun improvements down the road. It's not beyond the realm of possibility that we'll eventually allow transmogrification to use the twill set or [insert your favorite item here], but probably not for the initial launch of the feature.
Blizzard 'very, very serious' about console Diablo 3. Blizzard is still playing coy about Diablo 3 on consoles, talking about the possibility without actually formally announcing anything. During a Gamescom press conference, lead designer Josh Mosqueira said Blizzard is ""very, very serious about bringing the Diablo 3 experience to the console. According to Eurogamer, he followed up by affirming that the company is ""trying to build the best console team at Blizzard"" with the express intent of working on Diablo. Last year, Blizzard said it was "exploring a Diablo-related concept." Earlier this year, CEO Mike Morhaime said the company was "doing an investigation" into the idea of Diablo on consoles. Then in June, it posted a job listing for a "PlayStation 3 Specialist"
Blizzard Dota hits the reset button!
Drop of the Week
Edit
Diablo III community site is UP! Our new Diablo III community site is now live! Welcome to your sanctuary for all the latest developments from New Tristram and beyond, featuring community forums and regular blog updates. You can post comments and share Diablo III news items via Twitter, Facebook, and other popular social media outlets, and be sure to check out the new Diablo III news feed regularly.
Ad blocker interference detected!
Wikia is a free-to-use site that makes money from advertising. We have a modified experience for viewers using ad blockers

Wikia is not accessible if you've made further modifications. Remove the custom ad blocker rule(s) and the page will load as expected.