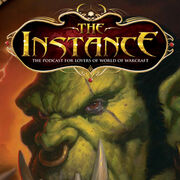 Opening Comments
Edit
We chat things up a bit about E3, what that means for Blizzard and WoW, and our overall impressions of the MMO showing at the event.
Big News of the Week
Edit
Give me patch, or give me death! When will 4.2 hit? According to the End of Arena Season 9 Announcement it looks like the patch will be deployed on June 21st, with the new season starting the week after.
Wanna see a naked toon with the best weapons ever? We've got your back! Our friends over at MMO-Champion have done the work so you don't have to, and extracted many if not all of the first wave of 4.2 based Firelands loot for all to see. Let's talk about a few of the stronger showings.
Rumors & Scuttlebut
Edit
Let's get Legendary all up in here, yo! We talk a bunch about some recent blizzard Q and A regarding tanks!
Why does blizzard hate E3? Year in and year out, we get pretty pumped for E3 to happen, and hear about the spread of new games that will be eating up our lives for the next couple of years. But we never see Blizzard at this event. Why? Blizzcon is THEIR E3? Not unlike Rockstar, they are ""bigger"" than this. They don't need it.
Drop of the Week
Edit
Do not forget Dark Pippi! He has provided sooooo many great songs we've played here on the instance, and his star is on the rise! Give him your support and check out his website, songs and youtube offerings. Really talented guy!