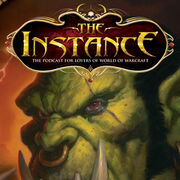 Big News of the Week
Edit
And now, a PROPPER blizzard 20 year video. 4.1 changes keep on coming: Henry is going drone! Among other things in the latest PTR notes. We are in the land of FIRE! A preview of Firelands.
Rumors & Scuttlebut
Edit
Season 10 is LATE! but we have models. Firs they tell us that it's not coming. And then they tell us how awesome the new Season geer looks. Will the content get revamped all the time in the future? Like in Cata? Zarhym tells the tale. Maps maps maps maps! If you have been burning to get your Burning Crusade maps on, then look no future than an upcoming patch!
Drop of the Week
Edit
Curse of the Worgen #4 on sale now online!
Ad blocker interference detected!
Wikia is a free-to-use site that makes money from advertising. We have a modified experience for viewers using ad blockers

Wikia is not accessible if you've made further modifications. Remove the custom ad blocker rule(s) and the page will load as expected.