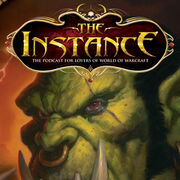 Big News Of The Week
Edit
Patch 3.0.8 To WoW Is Imminent
Edit
Blizzard updated the patch notes for the next code change to the game yesterday, and it looks to us like we're only a week or two away from seeing some useful, as well as some questionable changes to Azeroth, Outland and Northrend. We talk about a few of those that we skipped, or only touched on in episode 131 of The Instance.
Rumors And Scuttlebutt
Edit
Are You Authentically Playing WoW?
Edit
Authenticators are back. Or are they? You can only know by checking for yourself.
Logitech To Raise The Bar, Hopefully
Edit
Over at Engadget this week, we noticed this story about new hardware coming for WoW players and other PC gamers from Logitech. They described four new peripherals that will represent the top of their lines when they arrive later this year – a keyboard, a mouse, a headset and a gameboard, called the G13. The gameboard is available in the U.S. now, but coming to Europe at the end of March. Now what about prices? Here are the MSRPs for the four devices:
-G19 Keyboard $199
-G35 Headset $129
-G9 Mouse $99
-G13 Gamerboard $79
Looking Back On 2008
Edit
To close out the year, Massively.com and GamerDNA published a huge analysis of the players and playtime statistics that they collected throughout 2008. It's a big article, but we break out the highlights for you here, and you can follow this link for more.
Town Cryer
Edit
Gurkan writes:
I found a rather interesting movie on youtube, one of the thousands of WOW criticizers, that tries to get a message to mostly "christian" families. A message that WOW is infested with demonic activity and it is the work of Satan. Of course i dont ridicule these people, they believe whatever they want to believe. And they feel that it is their own responsibility to warn their loved ones. Here is the link to the movie. "World Of Warcraft, is it killing you? It will!"
Willy W. writes:
I was wondering if there was a mod that would check you spelling in game. I am dysgraphic and have very poor spelling do to my learning disability and I am often mis-spelling words and being made fun of in game.
Check out the Eloquence mod here.
Drop Of The Week
Edit
The Craft of War: BLIND
Edit
By far, the most submitted link to our inbox the last two weeks has been this re-animated machinima by a fellow who calls himself Percula. It is, indeed, a must-see.
Ad blocker interference detected!
Wikia is a free-to-use site that makes money from advertising. We have a modified experience for viewers using ad blockers

Wikia is not accessible if you've made further modifications. Remove the custom ad blocker rule(s) and the page will load as expected.