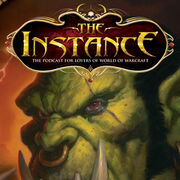 Big News Of The Week
Edit
It's Time To Level Up
Edit
It's not often that we get a scoop, but we've got one this week, and it's something that we've been waiting to announce for months: Doghouse Systems, our newest sponsor and simply *the* choice hardware provider for the discriminating World Of Warcraft gamer, is opening for business on Thursday, Oct 2. Why is this so exciting?
We've got many contests and prizes this episode and the next (Oct. 2).
An exclusive interview with John Pryor from Doghouse.
Did we mention prizes? Listen to win.
Rumors And Scuttlebutt
Edit
Blizzard To Wipe Away Your Sins
Edit
Blizzard announced this week that they will be wiping away all of your honor, all of your marks, and everything that you might use to purchase PvP rewards in the expansion.
We Get To Say The Name Bobby Kotick Again
Edit
The excellently-named CEO of Activision submitted to an interview with the Wall Street Journal for an article called "The Future Of Video Games". You need a subscription to enjoy the full story, but in summary, Kotick didn't talk so much about the future as he did the past – why Activision bought Blizzard away from Vivendi, what it means to run an MMO, with all of the considerations of the business, and how different this business is in Asia.
Town Cryer
Edit
Tom A. writes:
Hey Scott and Randy,i have a level 39 Orc hunter on Maiev, As I continue to try to level him,it's becoming increasinglly dificult to find groups for Instances around my level(such as Uldaman,and Razorfen Downs).My question is,do you have any tips on how to find groups for these dungeons.Such as going to a certain location,doing a specific thing,etc.
Drop Of The Week
Edit
Bejeweled In WoW
Edit
This hit the scene while we were recording our last episode live seven days ago, and the discussion hasn't ceased all week. Popcap Games, known for making solid, fun and lightweight games targeted at the Internet community, decided to put an addon into WoW specifically that gives you a fine looking version of Bejeweled to play no matter where you are in the world… of Warcraft. We have to ask – is this a good thing?
Ad blocker interference detected!
Wikia is a free-to-use site that makes money from advertising. We have a modified experience for viewers using ad blockers

Wikia is not accessible if you've made further modifications. Remove the custom ad blocker rule(s) and the page will load as expected.