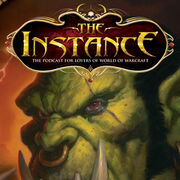 Big News Of The Week
Edit
Blizzard Goes To Comic-Con
Edit
Blizzard joined their partners UpperDeck, DC Unlimited, Wildstorm and TokyoPop at the San Diego Comic-Con this weekend, where their relationship with each was highlighted, the future of each line was elaborated, and attendees asked questions about topics that had nothing to do with comics, figurines or the trading card game.
Rumors And Scuttlebutt
Edit
Questions and Answers From The Comic-Con Panel
Edit
There was a Blizzard dev present at the joint panel yesterday, and the audience wanted to know about the future of World Of Warcraft. Nothing surprising was forthcoming, but a couple of the exchanges caught our attention.
World Of Warcraft: En Español
Edit
Blizzard launched the Spanish language version of WoW in Mexico, Chile and Argentina this week, complete with launch events in Mexico that included developer signings, a leveling contest and giveaways. The new Latin American realms are played in Spanish, and here's the new Spanish WoW official site, o nuestra página oficial.
Can't Play The Beta? Watch Someone Else Do It
Edit
The site WOTLKwiki.info has been presumably the most popular site on the net among those looking for expansion information for the last couple of months, but they're really out-doing themselves now. Here's a link to their new TV page, where you can go choose from one of four channels of streaming video, if they're currently online, and watch along as one of four fairly regular beta players experience the game.
Town Cryer
Edit
Gararon writes:
I recently started a Dwarf Hunter, however it feels like an eternity of grind from level 9 to 10 in the Dwarf area seeing as I'm overpowered quite easily and I can only find one quest that's pretty difficult in my area. I was wondering, is this normal for hunters before they get a pet and do you have any recommendations to help this process go quicker/less grind like?
Icesnake Frostfyre writes:
I've got simple macro that will let you choose your mount randomly from a pool of, potentially, about 20 (if you carry that many in your bags).
Drop Of The Week
Edit
How To Change Your Startup Music
Edit
It's an oldie, but a goodie. Friend of The Instance PT1994 posted a full explanation of the steps you need to take to make WoW play "Back In Black" when you start the game, rather than the usual start up music.
Ad blocker interference detected!
Wikia is a free-to-use site that makes money from advertising. We have a modified experience for viewers using ad blockers

Wikia is not accessible if you've made further modifications. Remove the custom ad blocker rule(s) and the page will load as expected.