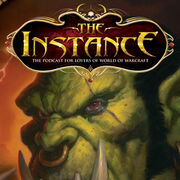 Big News Of The Week
Edit
Wrath Of The Lich King Beta Is Underway
Edit
Blizzard announced today that Beta Invitations are going out via e-mail to randomly chosen entrants for the Beta to the 2nd expansion of World of Warcraft. Here's the page where you can still sign up for the beta, and here's a separate link to the official Beta FAQ, and we're here to run down the answers to your biggest questions about the biggest beta in town.
Blizzard Launches Achievements System for WoW
Edit
According to the WoW official site, "These self-contained goals will offer new challenges, satisfy goal-oriented players, allow others to see your accomplishments in World of Warcraft — and are just plain fun." Here's the link to Blizzard's mini-site for the new Achievement system, and we run down a quick assessment for the system in the show.
Rumors And Scuttlebutt
Edit
Melyanna's Important Question, Live
Tell us about the most important item coming in the next expansion…
Check Out The Hot New Emotes
Edit
As the rumor currently goes, there are a total of 81 new commands being added to the game with the 2nd expansion. The WOTLK Wiki has a page of them, and it's huge!
Town Cryer
Edit
Live Questions With Samantha Jane and Bronco
also,
James J. writes: I play a orc hunter on Muradin server and i just had a question about twinks. I was wondering what your guys opion about twinks are. I have one 19 rouge twink myself and enjoy playing him but when you're playing a non twink character it seems to take some fun out of the BG when your constantly getting owned by twinks.
Ad blocker interference detected!
Wikia is a free-to-use site that makes money from advertising. We have a modified experience for viewers using ad blockers

Wikia is not accessible if you've made further modifications. Remove the custom ad blocker rule(s) and the page will load as expected.