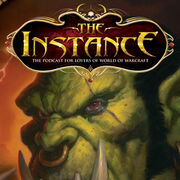 Big News Of The Week
Edit
Blizzard Announces Open Beta. Oh And They Had This Little Shindig In France.
Edit
We've got extended Big News this week, as there are so many things to talk about since the last episode of The Instance, it's hard to know where to begin. So let's start with late breaking news:
-Registration For The Limited Beta of Wrath Of The Lich King is now open. Blizzard launched the opt-in page for all you want-to-be beta testers just this afternoon, and we've got both the US and European versions here.
The WorldWide Invitational In Paris, France, happened this past weekend. Patrick was there, of course.
We Called It, Sort Of
Edit
Just two weeks ago on this show, we talked about Blizzard's test of an unusual two-factor authentication system in Taiwan, and suggested that they should implement something… anything multi-factor in the U.S. And they have. Blizzard handed them out at the WWI, and then sold their first batch from the online Blizzard store, selling out late yesterday.
WoW Comic Coming To TPB in only 4 weeks
Edit
The Walt Simonson / Ludo Lullabi World of Warcraft comic, which is on its' 9th month in a few days, will be published in graphic novel format by Titan Books on July 30. The cover price will be $19.99, or 4 gallons of gasoline, whichever is worth more. It will contain the first 7 issues of the series.
Rumors And Scuttlebutt
Edit
It's A List Of Rumors
Edit
Druids may be getting a regular ressurection spell in WotLK
Did PaladinSchmaladin get a picture of the Wrath Collector's Edition box?
The most discussed rumor lately has been one that Blizzard might introduce Death Knights to WoW 2.5 before the expansion is released. We discuss pros and cons, and why this is highly unlikely.
Town Cryer
Edit
Davro from Earthen Ring writes:
Hey guys I'm currently level 67 and once I hit 70 I want to work on getting some gear that will let me begin to raid. For the next month or so I won't be able to commit the time needed to run instances. Are the PvP rewards good enough for basic raiding gear or should I wait until I have more time and do instances instead of trying to raid?
Nick N. writes:
Hey I was wondering if there is a site you have found that lists daily quests by level requirement cause i have found a few my level (not 70) and really enjoyed them but would like to be able to do a lot more.
Drop Of The Week
Edit
You Need Some New Desktop Wallpaper
Edit
The venerable European CM Vaneras dropped in yesterday with an unexpected gift – a new and utterly awesome desktop wallpaper file of Illidan The Betrayer, oozing green light and clutching a skull. And there are some naga in there. And you can get it in nine different sizes.
Ad blocker interference detected!
Wikia is a free-to-use site that makes money from advertising. We have a modified experience for viewers using ad blockers

Wikia is not accessible if you've made further modifications. Remove the custom ad blocker rule(s) and the page will load as expected.