mp3 download link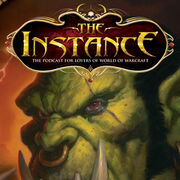 Big News Of The Week
Edit
Worldwide Arena Tournament Closes Week 4
Edit
After 4 weeks, the number one team is named "Slash Bark", but currently only contains a priest who has won 13 out of 17 matches. Not bad. Our attention is drawn to the team in 2nd place on the leaderboard – "Eclipse". Eclipse is made up of an undead Rogue, and undead Mage and and undead Priest. They've won 70% of their 225+ matches. Looking at the leaderboards, Mage/Rogue/Priest is the 3 person combo to have.
Rumors & Scuttlebutt
Edit
Children's Week Has Begun
Edit
Get all the details here. Don't forget to apply Papa Hummel's Pet Biscuits to your orphan!
Season 4 Arena Gear Revealed!
Edit
Boubouille at MMO Champion has once again scooped the news, and revealed the Season 4 Arena Gear in its entirety. And with screenshots!
Town Cryer
Edit
Tim S. writes:
Sorry to bother you but I was wondering if you had T-shirts for the AIE guild? I saw some in the forums in pictures and I would like to order one.
Hey Tim! Look here.
Drop Of The Week
Edit
Character Planning at Chardev
Edit
It's a Character Planning tool that allows you to start by importing your character from the WoW Armory into the tool, and then the fun begins. You can do anything with your character's gear – give her enchants, gems, elixers… anything you want to test, and Chardev lists all your stats.
Ad blocker interference detected!
Wikia is a free-to-use site that makes money from advertising. We have a modified experience for viewers using ad blockers

Wikia is not accessible if you've made further modifications. Remove the custom ad blocker rule(s) and the page will load as expected.