mp3 download link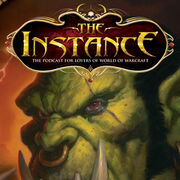 Big News Of The Week
Edit
Wrath Of The Lich King May Be Alpha Testing
Edit
That's right, a well-sourced rumor started making the rounds today that the 2nd Expansion to World Of Warcraft may be alpha testing as we speak. First, the clearly useful "beta.worldofwarcraft.com" came online on April 2, and the very next day, Blizzard took down the PTR, which is very unusual for them. Blizzard usually leaves the PTR up and running for many days after a major patch. The anonymously sourced rumor today has to be so, because Blizzard has a strict NDA on the alpha testing of WOTLK.
Interview With Curt Schilling
Edit
Champion Baseball Pro, Future Hall Of Famer, WoW Geek
Edit
An Instance exclusive! We were highly fortunate to spend some quality time with Curt Schilling. Yes, that Curt Schilling. Visit his blog and ventures here.
And you'll find the Azeroth Advisor that Curt mentioned here.
Town Cryer
Edit
Trebblebase of Scarshield Legion EU writes:
Edit
Hey Scott and Randy I was wondering if there is a Roleplaying list for Clothing in WoW, Ive had a look around but I cant find a definative list. I know alot of what you wear is up to the imagination but it would be great to have some pointers to go by. Any ideas?
Gaap, Undead Priest – Dragonmaw.eu writes:
Edit
I play a lot of Alterac Valley for grinding honor (it's the fastest way to farm honor IMO). The only annoying thing I'm finding annoying about this is that I end up with hundreds of AV marks in my mailbox after a night of AV. I've already got 100 marks in my bag so they're automatically sent in to me in the mail. Only problem is that they only last for 24 hours before they're deleted. My question is this: Is there anything I can "waste" AV marks on by purchasing? I already have the mount and tabard but can't see anything else that can be bought with just AV marks.
Drop Of The Week
Edit
MMO Couples
You think we're kidding?
Ad blocker interference detected!
Wikia is a free-to-use site that makes money from advertising. We have a modified experience for viewers using ad blockers

Wikia is not accessible if you've made further modifications. Remove the custom ad blocker rule(s) and the page will load as expected.