mp3 download link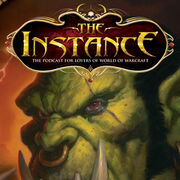 Veronica Belmont, Patrick from France, Shawn Basic, Darrel, and Mean Gene all jump in for this special 100th show!
Big News Of The Week
Edit
Blizzard 2008 Worldwide Invitational Tickets On Sale Now
Edit
Tickets for the 2008 Blizzard Entertainment Worldwide Invitational convention and tournament gaming event are now available on the Worldwide Invitational website. This year's Blizzard Worldwide Invitational will take place in Paris, France, at the Porte de Versailles Exposition Centre on the 28th and 29th of June. Tickets are priced at 70 Euros for the two-day event, which will feature hands-on play with the latest versions of World of Warcraft: Wrath of the Lich King and StarCraft II, competitive eSport and casual player tournaments, costume, dance and machinima contests, and much, much more.
Rumors and Scuttlebutt
Edit
Patch 2.4 Is Coming, Eventually
Edit
The Public Test Realm is back up and running today, after being unavailable for several days. This, in addition to rampant background downloader activity this week, has led to speculation that patch 2.4 will be coming on Tuesday, March 25th here in the States. So what are we looking forward to in patch 2.4? Check out the Fury Of The Sunwell trailer.
Drysc Whets Our Appetite For Season 4
Edit
In a post on the WoW forums yesterday, Blizzard CM Drysc cut to the chase about the forthcoming 4th season of Arena PvP: "There will be no changes to gear availability/rating requirement until Season 4 starts, which will not begin when patch 2.4 goes live. When Season 4 starts here's what will happen:
* Season 1 removed
* Season 2 moved to honor
* Season 3 rating requirements and prices lowered
o Shoulders: 1950 rating
o Weapon: 1800 rating
* Season 4 gear added
Season 4 isn't expected to begin any time soon, but as always we plan to give at least a two week notice before it does. Season 3 prices and Season 4 rating requirements are not yet announced.
Series 3 WoW Action Figures Incoming
Edit
According to Jay at Toy News International, DC unlimited has promised to release series three of the highly-sought World Of Warcraft Action figures later this year, and we've got pictures! What do you think of the male Blood Elf, female Dranei, female human and male undead rogue?
Town Cryer
Edit
Bob, a blood elf on a private server writes:
Are playing on private servers illegal? I understand that they are against the T.O.A. but are they against the LAW?
Drop Of The Week
Edit
MMOvie, Installment #1
Edit
It's 10 and a half minutes of pure MMO parody, with a lot of WoW and a lot of potential. MMOvie is a machinima, of course, and it doesn't really break new ground – video game players probably recorded their exploits in Pitfall 2600 on VHS and then dubbed in dialogue from Raiders Of The Lost Ark. But you can't deny that MMOvie has MMOxie. It's extremely well-produced – a cut above most all machinima.
Ad blocker interference detected!
Wikia is a free-to-use site that makes money from advertising. We have a modified experience for viewers using ad blockers

Wikia is not accessible if you've made further modifications. Remove the custom ad blocker rule(s) and the page will load as expected.